Everyone wants to add a touch of individuality to their home – and kitchen is the very heart of every home; and what defines the actual spatial quality of the kitchen itself, are the cabinets. So widespread, and so pragmatic are they, that without them, a kitchen might succumb into chaos and anarchy – with nowhere to put your cutlery, hide your extras, shove all that clutter. So, in order to add a touch of personality, and individuality to the kitchen, one must add a customized element of design to the cabinetry. In this article, we would discuss some of the more unique variety of cabinet design – a few, you might even fall in love with.
1. Moody and Contemporary
In first glance, there is nothing very special about the form or overall outlook of these cabinets – in fact they are quite conventional in formation, and straightforward in design. But what does, set them apart from most is the use of a very unique material. The shiny gloss of the cabinets could be achieved by the use of any material, be it lamination or metal plating, but what matters here is what that look entails. This style is not quite shabby, but is definitely chic, brimming with a decadent fort of sophistication, which the combination of the lamination, along with its uncanny composition with a marble backsplash achieves.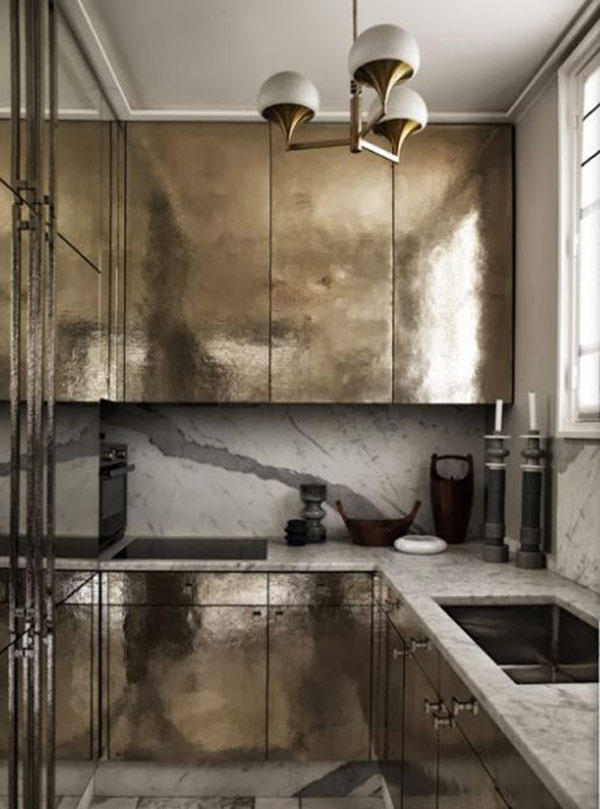 2. A tale of two Circles
Apparently, going straight, now a days has become a timeless conventional where kitchen cabinetry is concerned, and so, this option is a little bit of deliberate contemporary – both in form, concept, and definitely physique. Curvature in design is very hard to handle – it takes up precious space, but the results where stature is concerned, are quite out of the box. So this white contemporary cabinet set, with its round formation, and systematic storage options is quite extraordinary, and unique.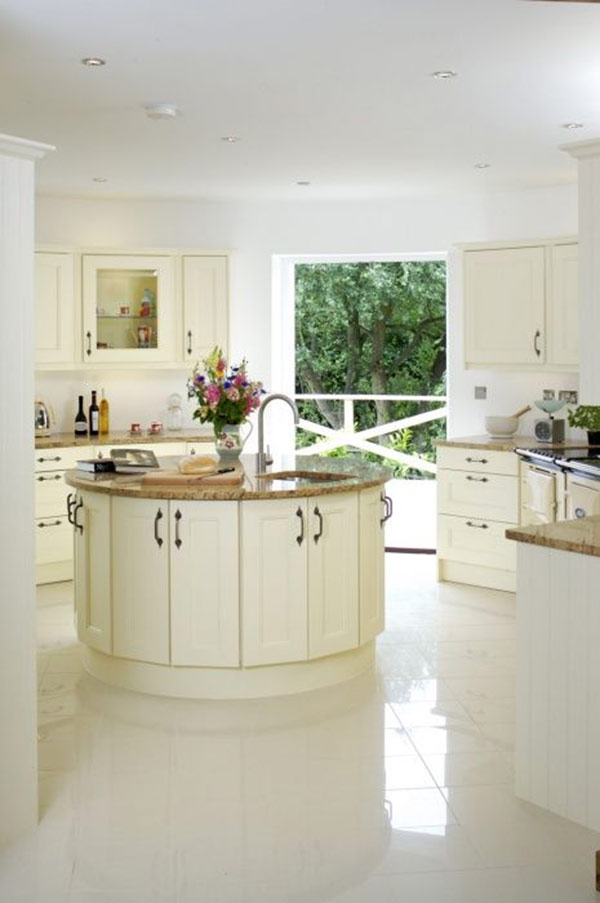 3. Space in Rotund
Another set of round design, this cabinet set differs itself from the rest, by breaking tradition. The shape of it may be round, but the curvature is design output is very subtle – in that it is not immediately round, but manipulates the three dimensional space to give of an aura of a round space. Aside from that, its deep, earthy tones combine well with the lighter counterparts of ceiling, and backsplash. This formation is quite unique, and would look magnificent in any designed kitchen setting.
 
4. Back to Rococo
While most styles of kitchen cabinetry now a days come in modern or contemporary, this one appeals to the rococo aesthetic – playful in outlook, yet lightly ornate in design. The powder blue of the outer coating, combined with the classical formation of the design, and carvings, make for an eccentric interpretation of this design. However, the carving does not take away from the concept, but adds an element of individuality that is slowly becoming lost in the era of today's modern contemporary designs that are found in bulk.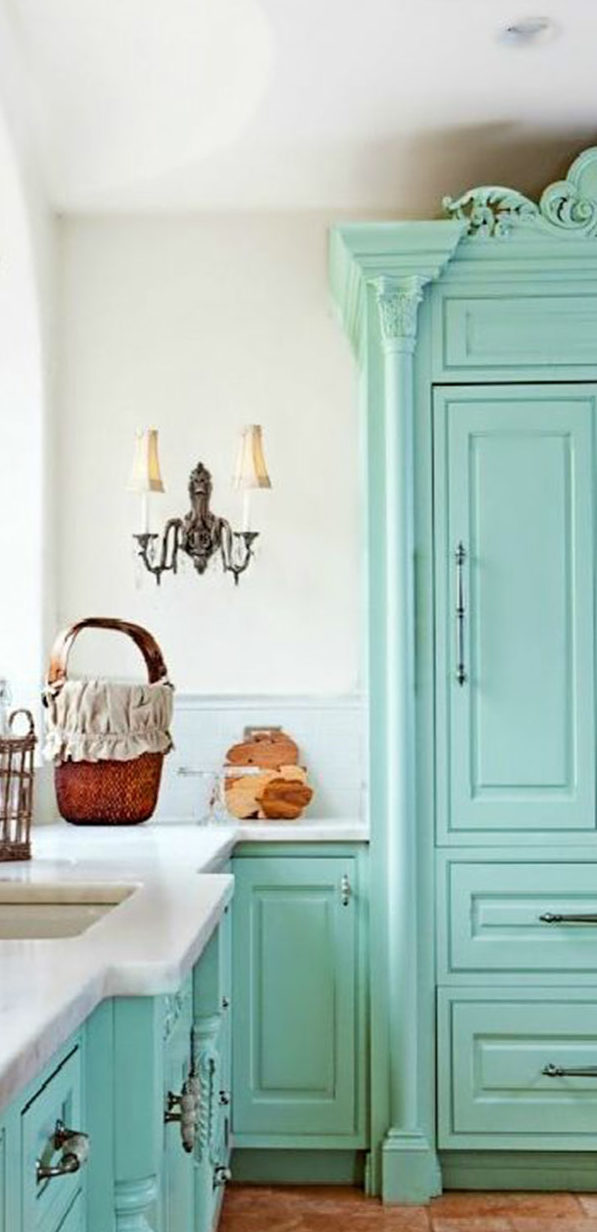 5. Clean, cut, and modern
This one is a beautiful contemporary rendition of a modern design – the deep set tone, a splash of contrast, and the sleek, minimalistic form of the design are an alluring interpretation of this concept, and combine it well with the overall functionality of this design. The cabinetry, in this case, is not the face of the kitchen – instead, it is hidden behind the curve, and the inside seam of the counter, keeping all the clutter, and storage area away from the general public. This sort of design is best suited for a dry kitchen, which needs much less storage space than a wet kitchen.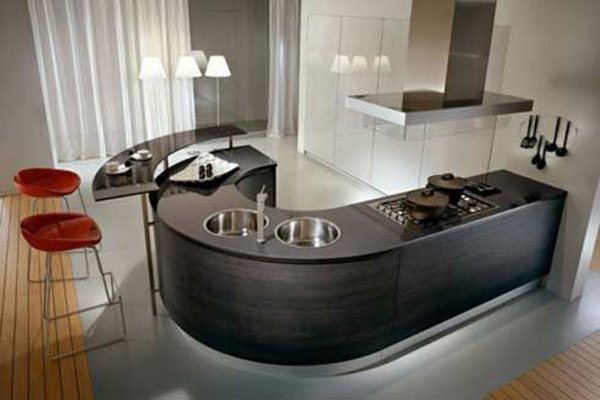 6. Victorian Vintage
This ornate, classical kitchen cabinet set is Victorian English in style, and exudes an aura of ornate ostentatiousness without being overly elaborate, or florid about it. The distressed finish is shabby chic in outlook, and gives off a vintage vibe, making it an inherent incorporation of this design set. Its combination with the similarly ornate wooden hood is an exemplary amalgamation of color schemes and materials. Since there are more or less, no see through surfaces, this cabinet set is ideal for storage of clutter and other indiscreet kitchen utensils.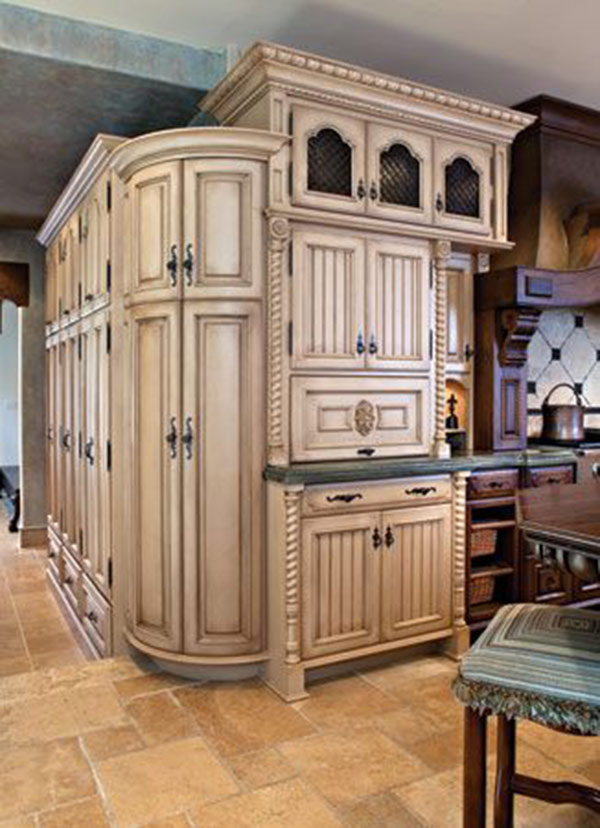 7. A saga of Pink and Modern
This kitchen cabinet set is quite contemporary, with a flair. The clever amalgamation of materials and color schemes is only one interesting aspect of this cabinet set, but what makes it unique kitchen cabinet and appealing, is its solid consolidation with the sleek, straight, and cutting lines of the modern style, while completely juxtaposing the ultimate principles of an achromatic color scheme into the design. The shocking pink color scheme would have been quite an overstatement, had the design not been balanced out by the frosted transparency of the upper units of cabinetry.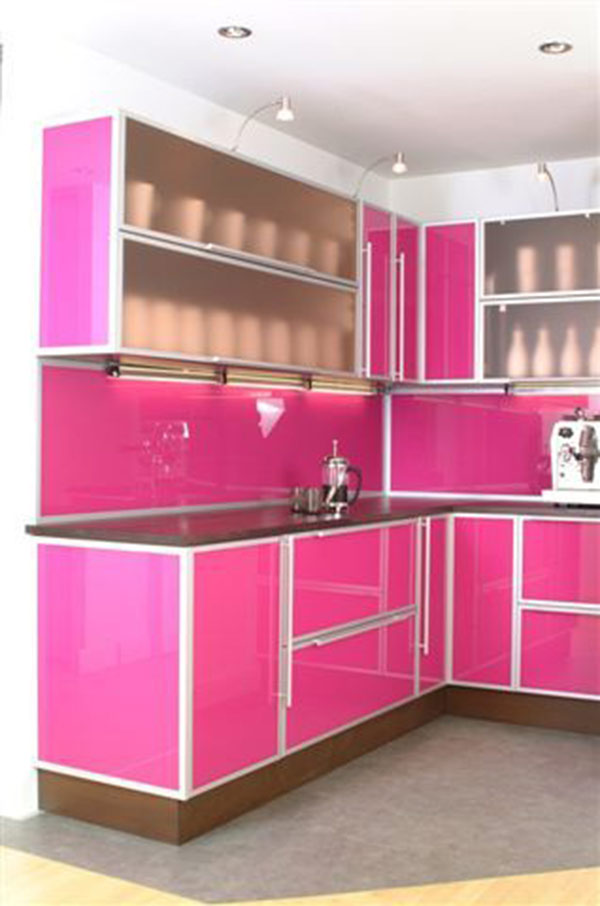 8. Retro
If your tastes run the gamut of retro chic, then this cabinet design is the perfect fit for you. Combing all the styles of art that defines that era into one unique strip that showcases the artwork, and consolidating it with the facade of the kitchen cabinetry is an idiosyncratic move, that makes this cabinetry design a one of a kind. The popping color scheme is another aspect of this design which is quite unique – the majority of which is yellow, with small doses of bright blues, reds, pinks, and more.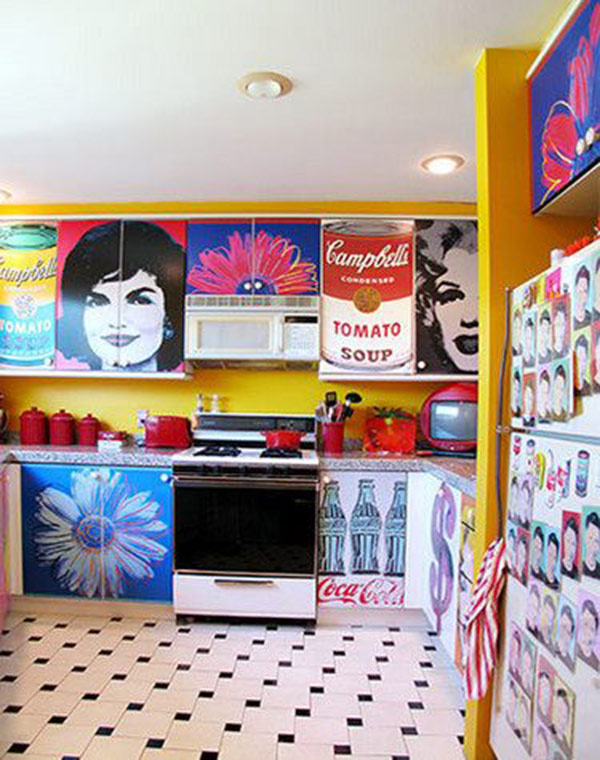 9. The Cafe Style
This cabinet style might give off a vintage appeal, but it is, in its essence, a fun amalgamation of modern and shabby chic – ultimately giving off the look of a beautiful cafe. The use of distressed wood, jute, and black chalkboard with cut out art only reinforces the image of that outlook. Overall, it is an interesting aspect, and gives off a quirky vibe to the cabinet design, while making it look alluring, and approachable at the same time.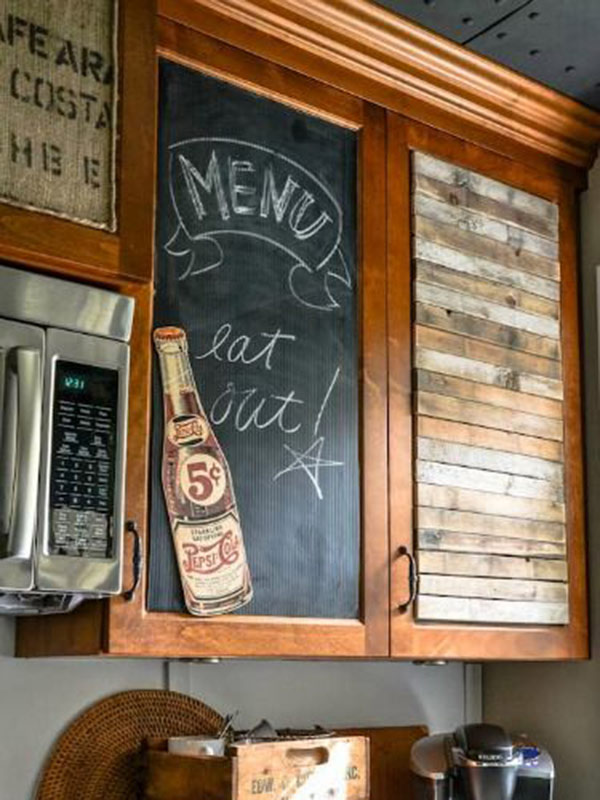 10. A splash of Mosaic
This one is not only distinctive in its style, and vocabulary, but also the major interpretation of contemporary. The mosaic backsplash is one of the defining characteristics of this design, and the use of both open, and closed cabinetry sets this combination apart. the overall color scheme is on the lighter side, and aside from the use of mosaic, is quite simplistic, elementary, and austere.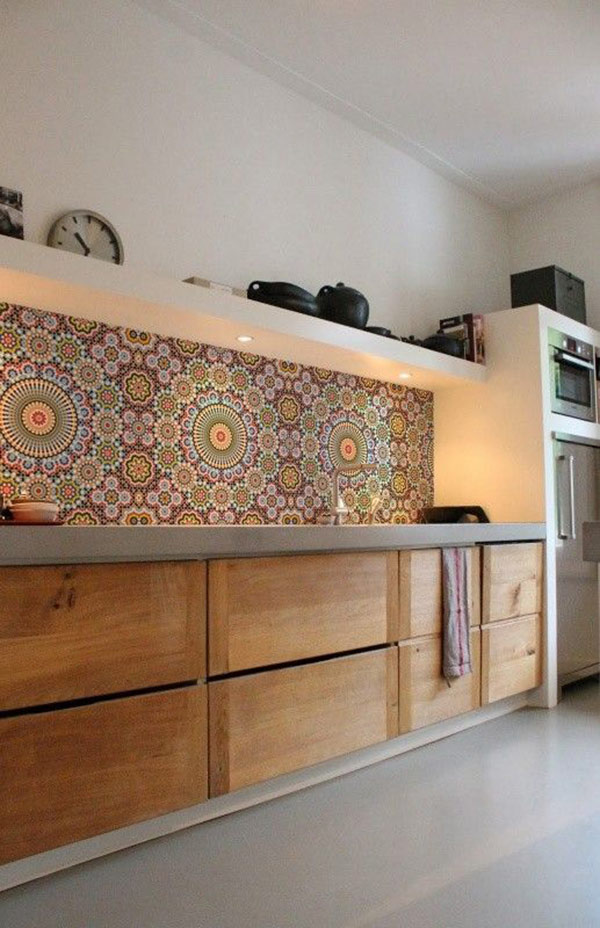 Save
Save
Save