In the era of massive urbanization, affordable housing, and space saving trends, it is only a matter of fact that the product design, and furniture industry starts keeping track with this growing mania, that is slowly taking over the urban, and suburban facet of our cities, and in turn, our homes. This shift in the allocation of space defines how we use the area that we are provided in the best possible way, how to optimize the capacity of our rooms by working on the principles of smart technology, and space saving ideas. Following the trail of this vogue, several solutions, in the form of tiny housing, and apartments have been generated, and when it comes to furniture design, foldable, stackable furniture has taken the lead in space saving trends. In this article, we would discuss some of these smart, foldable bedroom furniture sets, in various settings, and how they are maximizing the output of our allocated space.
1. A craving for Contemporary
Following the style of modern contemporary, this foldable bedroom furniture set affixes itself to a wall, which could become a feature of your room. The placement, in this case, matters – you might put it in a private sector of your apartment, or house, or you might set it up in a public sector of your house; the choice is yours, but what would be a tiny nugget from a designers perspective, would be that by affixing it in the public sector of your home, you would have more opportunities to make use of this style – for example, if the bed is laden with clutter, and you have to suddenly entertain, you can always fold it up, to take out the couch.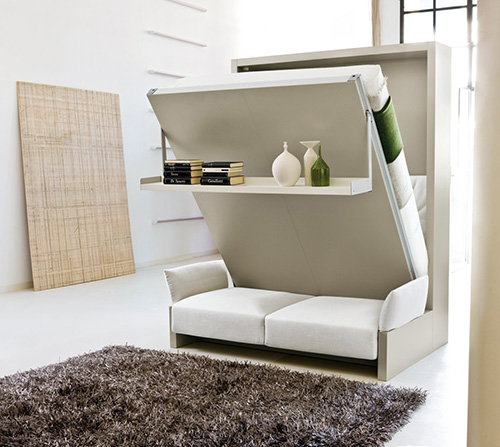 2. A pop of Orange
This one is quite optimistic in its use of folding capacity, but is however, a smart option for a bedroom belonging to teen/adolescent. With the added capacity of storage, and showcasing via the shelving unit attached to the reading area, cum bed, this foldable bedroom furniture set shows not only a smart panache, but also incorporates an interesting color scheme, which goes well with the texture, and finish of the wood, used in the main, visible part of the body. Not only does it save space, but this smart bedroom furniture set also takes in consideration, the aesthetics of the space.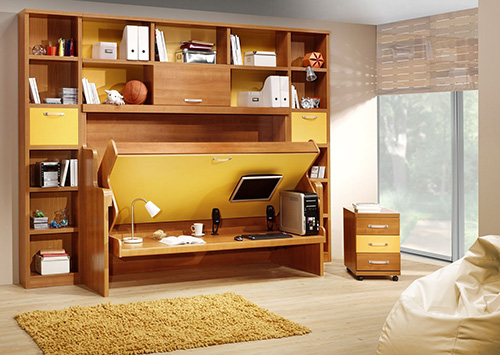 3. Bed cum Closet
This contemporary foldable bedroom furniture set incorporates a hidden closet beneath its underbelly, which, in today's society is a major must have in any home. So, by taking down the space for an extended wardrobe from your allocated area, and combining it in its aesthetic, this bedroom furniture set is quite tall, and that tallness becomes a clever design feature that takes on the aesthetic of volume, in a small amount of space. Its color scheme is soothing, and appeals to the eye, and the underbelly of the stairs is a convenient place for storage, and an impromptu nightstand.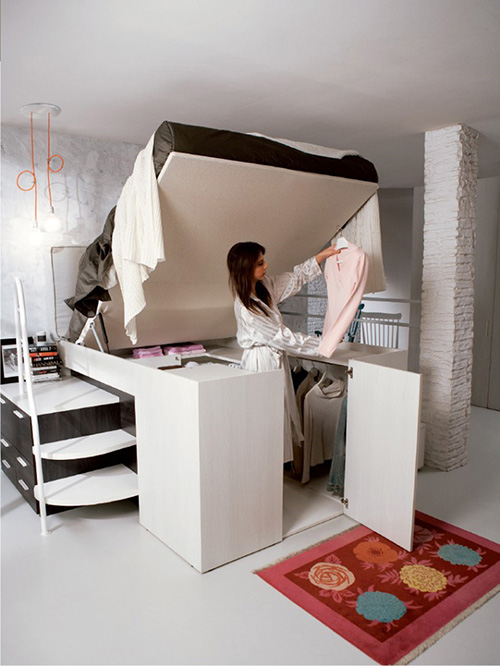 4. Style it Up
This Murphy bed folds in on the wardrobe to give off a seamless collocation, which contrasts well with the stylistic appeal of the face of the cupboard doors. When pulled out, the bed reveals a sturdily made counter from behind, that is appropriately lit, and could be used to either store all your bedding paraphernalia, or showcase your prized possessions and trinkets, depending on how you would like to integrate the space. The overall look is quite aesthetically appealing, with a cool set of color palate, which would fit well in any setting.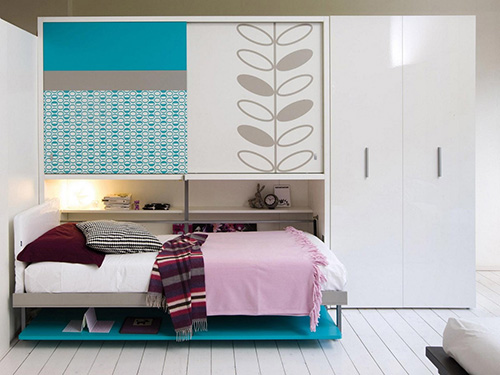 5. Sleep, cum clothe
Another wardrobe cum foldable bed, but this time, in a uniquely different style. The boxy physique of this foldable bedroom furniture set is solid, and very simplistic. It combines its dichotomy of purpose well with its aesthetics. The simple finish of the wood is light in color, and merges well with the dark, popping color of the bed covers. Overall, the integration of function in the design is quite minimalistic in nature, as there are no frou frou accoutrements attached to the design – just all functionality, and pragmatism, that articulate well in aesthetics.

6. Minimalistic
This foldable furniture set would be a perfect fit for an office cum bedroom. Quite solemn in aesthetic, it makes use of all the minimalistic principles that combine pragmatism, and optimum use of space, in a small amount of area, really well. In addition, the smallness of the space here is quite apparent, and how well this foldable bedroom furniture handles that shortcoming, and makes it a part of its aesthetic is commendable. The finish of the wood, gives it a professional touch, which merges well with the personal side of things when the bed is taken out.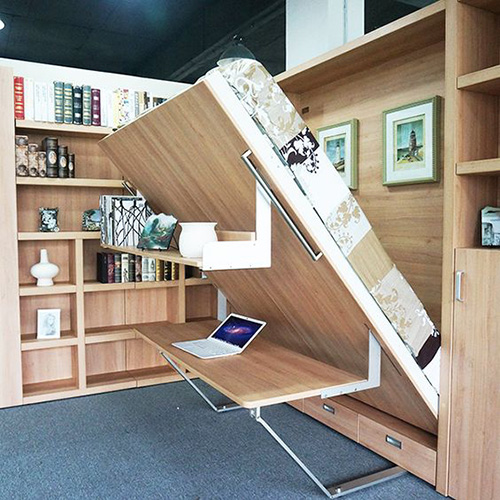 7. Classically Grand
Expertly amalgamating classically grand, with the foldable furniture aesthetic, this bedroom furniture set is quite a juxtaposition in its own right. The classical style, in its essence, exudes ostentatiousness, without being elaborate, so the end result is quite sophisticated, and this design combines that sophistication with clear manipulation of the three dimensional space, with expert lighting, deliberate amalgamation of simple elegance, and a subtly majestic conceptualization.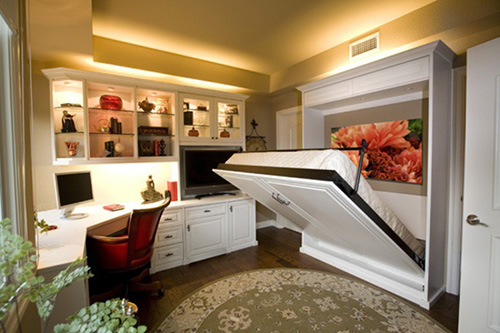 8. Achromatic, and modern
This smart, foldable furniture set completely embraces the modernism style design scheme, with its sleek, simple finish, a monochromatic color scheme, and focus on functionality, as well as aesthetic. There is something decidedly austere about the stark collocation with a function as intimate as sleeping, but this furniture set combines it well, while offering the best of its unadorned, effortless beauty.
 
9. Bright, white, and orange
Minimalism amalgamates with small style interior designing technique by combining an element of smart, foldable furniture set in the mix, with a color scheme that runs the gamut of white, and white alone, so the stark, popping contrast of that one slab of wood – and the bed, when unfolded – makes for an alluring contrast. The combination of aesthetics and functionality is well done, in an understated way.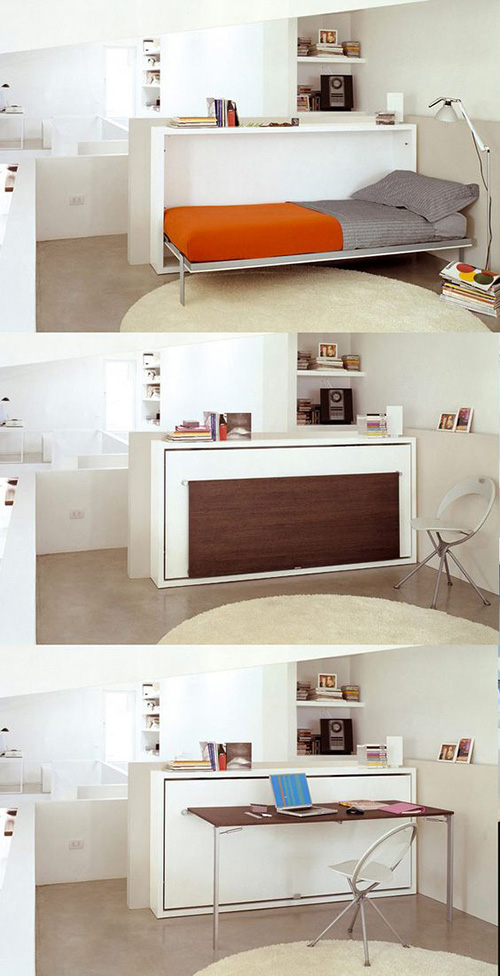 10. A dash of red and blue
This one has a slightly retro feel, which is overwhelmed by the contemporary aesthetic of the sleek, smooth parts of the foldable bedroom furniture set. This one converts into a sofa, come coffee table when folded in, and a bed, when folded out. The overall ambiance for this set is quite casual, and the aesthetics are easy going, and effortlessly simple.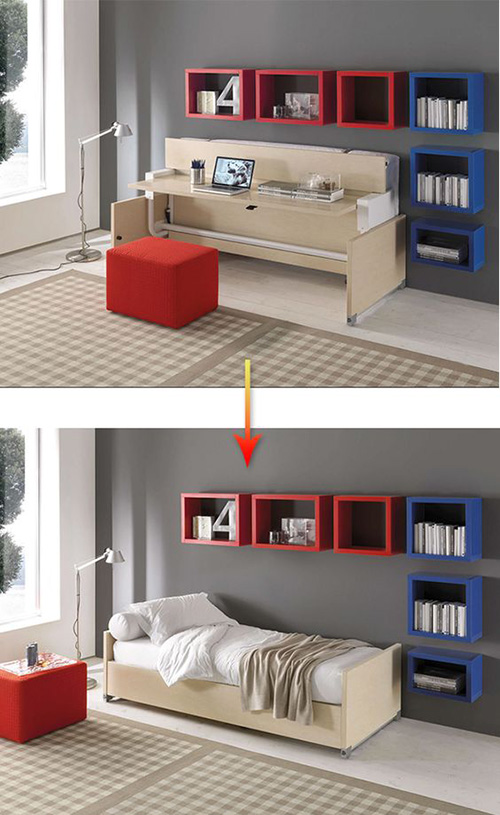 Save