Since furniture is a necessity in any and all homes, it has become a thriving market – you can find everything from modern to contemporary to prairie, from retro to vintage and rustic available in mass produced and manufactured product shops at a pretty steep price. So, in today's design industry to find affordable furniture is quite a feat – especially if you're looking for something as considerable as a king size bedroom set in customized specialties and tastes. It is a widely produced product, with matching design possibilities for the general public's taste, and accordingly priced. In this article, we would feature some fun, and affordable king size bedroom sets for your home.
Stylish and unique, this king size bedroom set is brimming with chic vogue. Not only would it enhance the character of any room it is set in, but would add a certain panache to the entire setting. The headboard with attaché side tables are a contemporary touch, while the sleek black finish adds a sophisticated, debonair, charm. It is a classy bedroom set, which is both affordable, and provides adequate design and stylistic opportunities.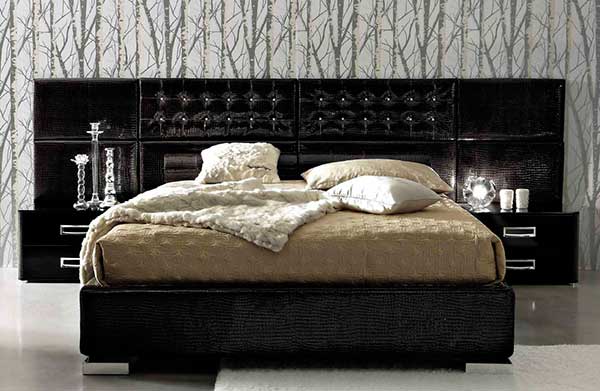 This is another great feature of an affordable king size bedroom set. Sleek and modern in design, it is minimalistic in nature, but lacking all of the style's severe austerity. Instead, the slight curvature in the flat board design adds a personalized touch, while the use of leather makes it look swanky and classy. The attached side tables make it a complete set, which is elegant, and attractive, without any extravaganza. Similarly, the accompanying furniture in light grey, adds a contrast to the entire color scheme, making it look tasteful and trendy. This is a great catch, and an affordable one at that.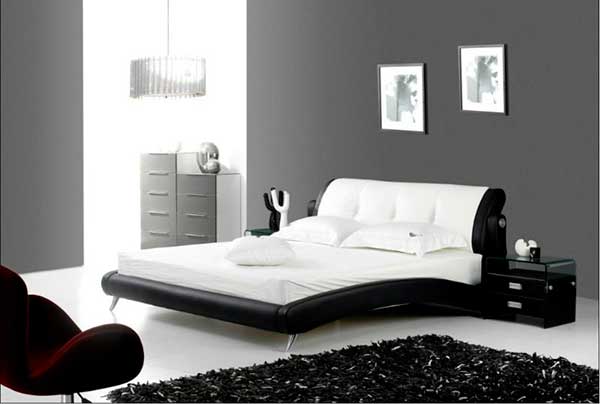 If your taste runs the gamut of rustic, or vintage, then this affordable king size bed is the perfect fit for you. Not entirely vintage, it walks a tight line between rustic, and Victorian – or a great consolidation of both. The headboard is shaped like the hull of a board, and offers a unique stylistic opportunity – one where the round edges of contemporary design, meet the wooden, old-world charm of centuries past. The chaise at the foot of the bed depicts an old chest – giving off a rustic vibe, while the side tables, – detached – add an artlessly unassuming vibe, that is ingenious. This one is a crafty, affordable pick.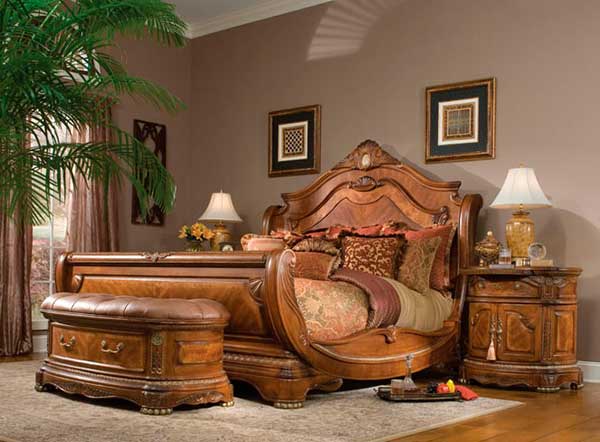 This one has an offbeat charm of shabby chic nature – the rough wooden texture, combined with a light distressing of the material, is the perfect amalgamation of bucolic, and Arcadian. Overall, the entire bedroom set gives of a chic vibe, exuding elegance, and a charming agrestic homeliness, highlighted by the lightly contrasting use of bedcover and pillows, which would define the character of your room. It is a great choice, when it comes to affordable furniture.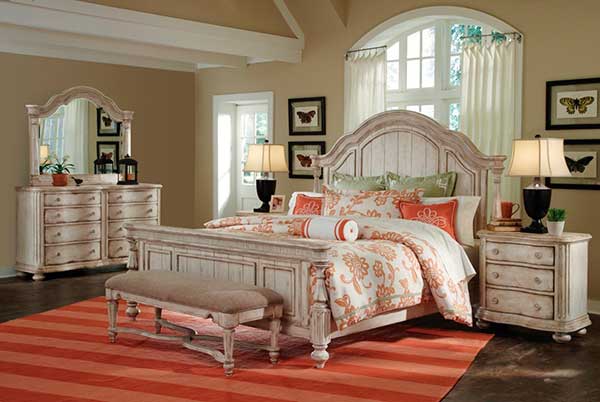 A sleek mixture of modern and contemporary, this affordable king size bedroom set is a dramatic juxtaposition of light and dark – while the understated, subtle, undertones of grey are used to deflect the dark tones of the bed, the wooden textured dresser and drawer chest play off the warmth of their finish. The amalgamation of the two, create a unique juxtaposition of contemporary rustic, and sleek chic, which is only reinforced by the commonality of the color black, which is running the gamut of a modish trimming under the flat board of the bed, and the sides of the dresser and the drawer chest.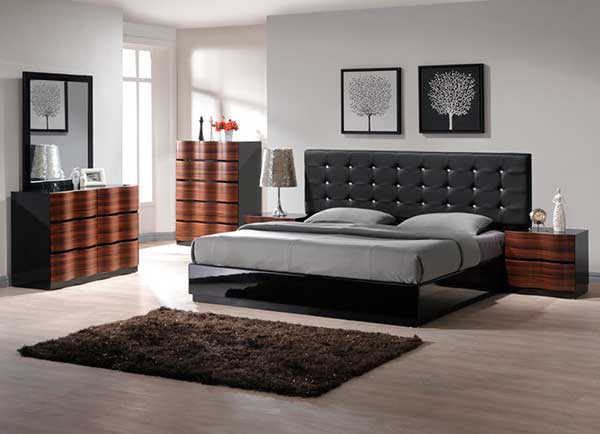 If you're inspired by the classical style of architecture and interior design a la Greek and Roman, than this affordable king size bedroom set would be a dream come true. A six piece Pulaski Arabella, it is done completely in wood, with intricate carving mimicking the entablature of the Greek designs. The bed posts mirror the composite designs of the Doric style of columns that held up temples in the Greek era. Overall, the design interprets the concept of shabby chic, and exudes elegance with its deep set, earthy tones, and distressed wood outlook.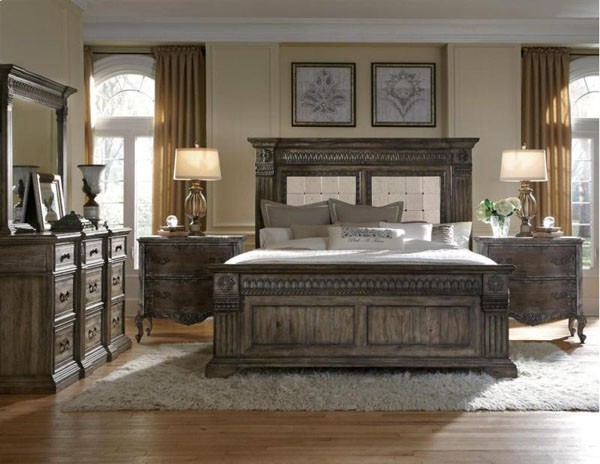 Slightly agrarian, this affordable king size bedroom set is a classic – with rustic wooden finish, and a vintage appeal, it sets itself apart by the simplistic take on design. With straight, edgy lines, the main outlook for this design is standard, yet authoritative. Its understated elegance, features a time honored restraint, common in the designs of new age renaissance. Aside from that, another interpretation of this design, could be traditional. The agrestic simplicity advocates a rustic appeal, and makes it a prime candidate for any bedroom setting.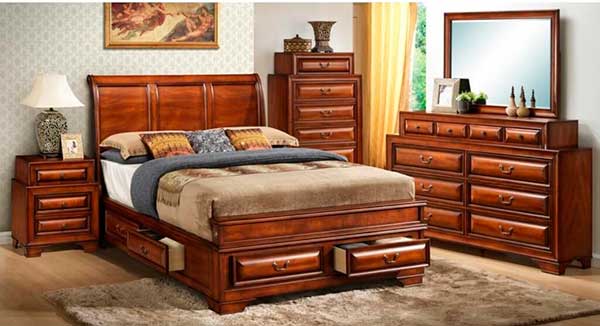 Classically traditional, this affordable king size bedroom set depicts the Georgian era. A great amalgamation of classy and classic, it incorporates a chic elegance that could only have been achieved by the customized traditionalist design form. Aside from that, the distressed look of the finish makes it seem sleek and fashionable, and added to that, the leather on the headboard, it adds a touch of contemporary modern to the entire mix.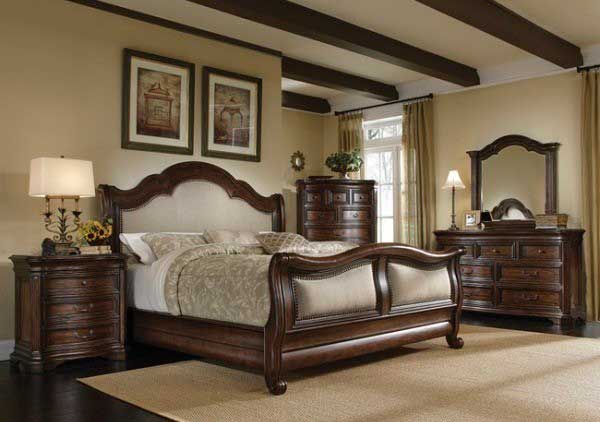 This four poster is a good deal for an affordable king size bedroom set – not only is it a classic, but it would also enhance the character of any room, given that it is adequately sized, instead of making it look stuffy and overwrought with profligate ostentatiousness. The overall design scheme borders on ornate, but is elegant in design, so doesn't appear to be overbearingly extravagant. Instead, it looks regal, dignified, and impressive – the brown of the wood, only adding more character to the mix.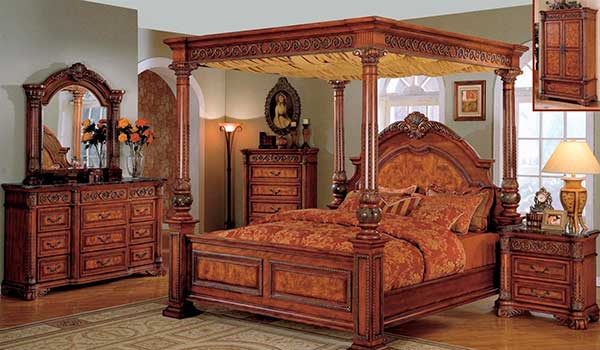 This vintage Victorian piece is a home owners dream, and in the affordable king size bedroom set genre, it is an opportunity to avail. With an inbuilt arcane style, this is definitely a winner in both style, and design. The wooden texture adds to the integrity, while the crown style leather headboard gives it a slightly modern touch. Overall, it is elegant, and chic – a statement in vogue and style.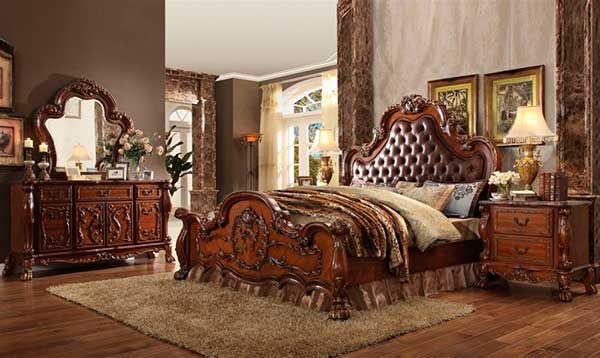 Save